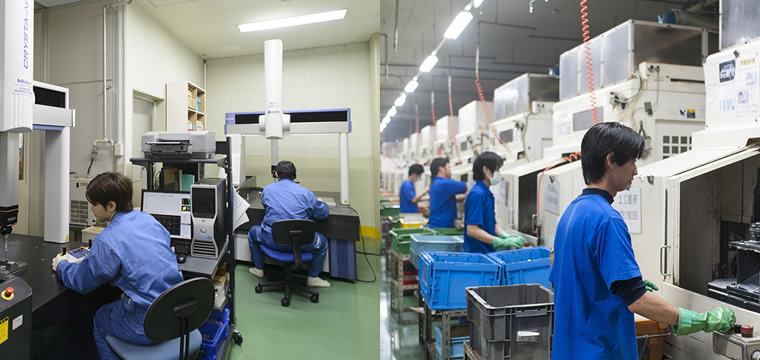 An altruistic spirit that has not changed since we started business
Proven technology from a town known for its craftsmanship, Higashi-Osaka. Ino Industry Co., Ltd. has been doing business here for more than 50 years. From the very beginning, our corporate philosophy has emphasized manufacturing craftsmanship that puts the customer first and commitment to the community. But our greatest joy has always been the precision machining of die-cast alloys, forged aluminum, copper, iron, carbon, and other materials in the manufacture of parts that are put to use in a wide variety of applications for users both in Japan and overseas. Confidence in ourselves and our ability is an irreplaceable asset, which comes from having worked so resolutely to earn the trust of our customers.
The ability to give birth to innovation
Our eyes are on the future. And our approach to manufacturing craftsmanship enables us to anticipate the needs of the community 10 or even 20 years down the road. We are also hard at work in areas that involve the natural environment, industries such as medical, automotive, and aerospace, and other disciplines that are expected to see significant growth. Flexibility is what will be needed in the future. Leveraging our long years of experience, we hope to always be a proactive company that is never afraid of dealing with innovation as we move forward. Neither fearing the future nor clinging to the past, we live each day to the fullest in pioneering the future through tenacious effort and indomitable spirt as we work to combine our masterful expertise with the latest in digital technology.